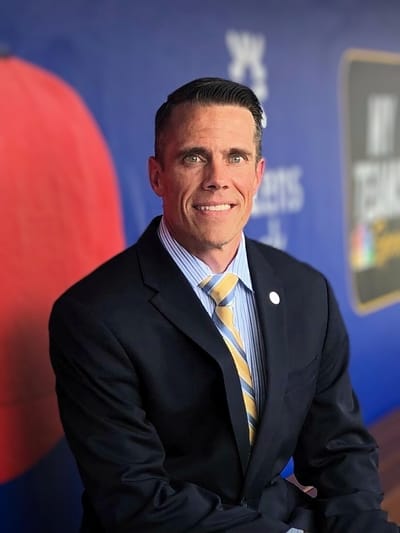 Francis McGovern is a lifelong public servant – veteran, law enforcement officer, teacher, volunteer, and coach.
Fran served his country. At 17, he committed to serving in the United States Air Force. From 1995 through 2000, Fran served as a USAF's Security Forces member, proudly representing our country in Europe, Africa, and Asia. Shortly after his honorable active-duty service concluded, our nation was struck by the terrorist attacks of September 11, 2001. Fran returned to active duty to support our forces during those difficult times.
Fran served the State of New Jersey. He served with one of the finest law enforcement organizations in the country as a member of the New Jersey State Police, graduating from the NJSP Academy in April 2001. In 2021, Fran retired from the NJSP as a Captain responsible for developing policy, leading investigators, and guiding the State's response to complex public safety concerns, such as violent gun crime and the public health epidemic involving opioids and substance use disorder.
Fran is a teacher. He has served as an adjunct professor at Rutgers University and Rowan College of South Jersey, teaching classes within the criminal justice and political science programs. He uses this opportunity to guide and mentor the next generation of young men and women pursuing a profession in criminal justice.
Fran serves the community of Woolwich. The McGovern family is actively involved and invested in the success of Woolwich. Fran has been married to his wife Tamara for 20 years and is the proud father of two children: Liam (Age 12) and Emma (Age 10). Fran is an avid volunteer, especially related to youth sports. He has volunteered as an Assistant and Head Coach for the Swedesboro-Woolwich Little League and has coached and supported youth basketball and the local swim team – "Peachwood Pirates." "Coach" is the title that gives Fran the most pride. He believes coaching and mentoring our community's young athletes is a privilege and is committed to supporting our youth athletic programs.
Fran earned his undergraduate degree from Rutgers University-Camden and a master's in public administration (MPA) from the University of Pennsylvania. Fran has continued his education with doctoral studies in Public Affairs from Rutgers University-Camden, focusing on public policy and advanced statistics.
As we approach the upcoming election, I encourage you to consider Fran's track record and ongoing commitment to our country and community. Fran is committed to using his experience and dedication to service to be a trusted voice in our community. He believes the cornerstone of public service is transparency and open communication. Your vote for Fran is a vote for open and honest dialogue between community members and elected officials to voice their concerns is critical to preserving the character and charm of the community.